My friend Mary and I are two firecrackers headed out on a crazy adventure. Know what happens when you put two ladies with spark in a car together? We light up the town! I'm especially fond of road trips. Every time I can finagle my way into a couple of days of exploring new territory or revisiting some wonderful old haunts I get as excited as a kid with an Easter Basket. Well, actually two Easter baskets. If there's something I've learned in life, it's that you can't put all your eggs in one basket, so I bring two…just in case. You never know when you might need a little extra storage.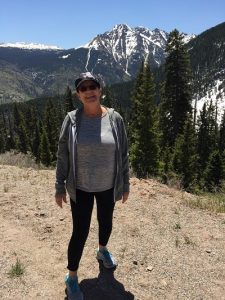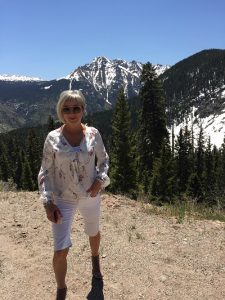 On our initial leg, we head southwest from Denver with Pagosa Springs in sight. The day is bright and clear, and we enjoy the majestic mountains rising one beyond the other. Some are snow capped, others filled with forests of aspen and pine. This is the beauty of Colorado, foothills or 14ers a looming companion that holds both adventure and ease like mine and Mary's friendship, which has survived many years. Mary, like me, is a hold-nothing-back personality who squeezes all the joy she can out of every moment. Our conversation ranges from work, to travel, to kids, to men (less work and kids more men is my motto). One of us spends significant time on a dating site weighing her prospects. You may think women of a certain age don't know what it means to "swipe left" or "swipe right" but we've got the whole technology of dating figured out. You may also think women of a certain age act respectably, but that's only in front of strangers. As the years move forward, I realize you've got to fit fun in where you find it and times' a wastin'. Suffice it to say that there's a lot of laughter and perhaps a bit of debauchery in our near future.
After several hours driving, we reach Pagosa Springs and cruise up and down the quaint Main Street that looks like something you'd see in a Spaghetti Western with brick buildings and neon signs that haven't been changed since the 1950s.We case the watering holes using keen logic to decide where to stop. There aren't a lot of places to choose from. The one with the most cars parked in front is clearly the winner. When you travel, you learn to look for such clues in two-horse towns. There's usually a popular spot and then that one place with brown carpet that smells slightly of mold, cigarettes and Old Spice. That's the place you want to avoid. Our instincts prove to be spot on.
Popular doesn't begin to describe this establishment. The entire population of Pagosa Springs (1,761) seems to dine here. Of the utmost interest to us (and everyone else present) is a local woman who garners so much attention from male patrons that we can't decide whether to blush or befriend her. It would sure make for an exciting night! Whatever her trick is, it's clearly working. She's the Grand Dame and we're the envious chorus. Oh well, another life lesson…what happens in Pagosa Springs stays in Pagosa Springs. Nah, just kidding. The real lesson, if you can't beat 'em join 'em, and if you can't join 'em, use 'em to bond with your bestie.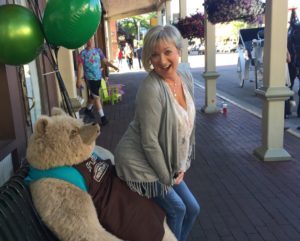 The next morning, I decide to pop into a real estate office. How can I not? It's what I do after all. This is how you stay on top of your game, serious stalking skills aka networking. I laugh out loud when I realize I met two or three of the local agents just last night. Lesson number three…don't ever believe anyone who says, "what happens in Pagosa Springs stays in Pagosa Springs." Truthfully, this place is a blast with interesting and warm people, but like Thelma and Louise, it's prime time to make our getaway.
Moving on down the road to Durango, we check into the Strater Hotel and get ready for yet another night on the town. Can you see a trend developing? This night is the heart of our planned road trip. We're ready to board the Blues Train for our evening entertainment. The train ride takes us half way between Durango and Silverton. Each car has its own blues band playing. We procure some cocktails and immerse ourselves in a spectacular sunset. The highlight of the night is connecting with a bunch of crazy people – the good kind of crazy. We dance, laugh, drink a little, dance some more, laugh a lot more. If you've never been on the Blues Train, make your plans now.
There ain't nothing like a mountain train, wicked good music, big bosomed women and "mengineers" (that's what I like to call men in old-timey conductor uniforms). Also, it's the best way to be a groupie when you've grown out of your rock-n-roll lifestyle.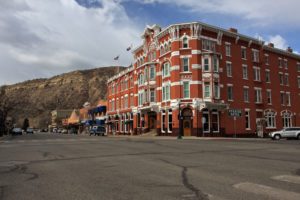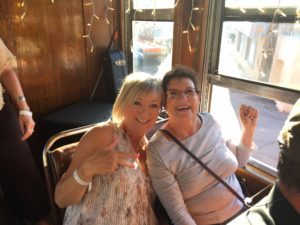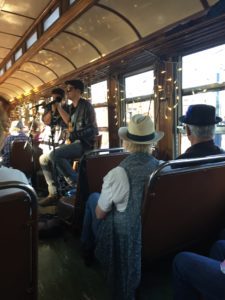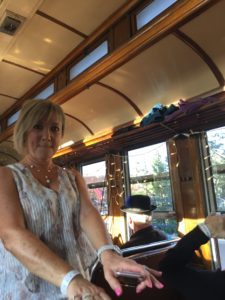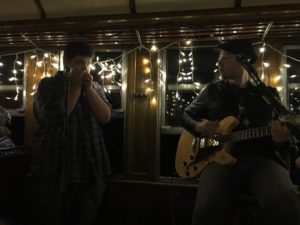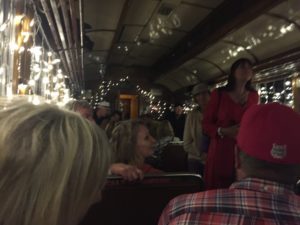 After sleeping off the blues, we put rubber-to-road and make our way onward to Ouray. They call it the Switzerland of the Alps for a reason. Snow-capped peaks and waterfalls surround and elegant old mining town. I'm a native of this area, but I saw San Juan National Forest for the first time only five years ago. The entire Southwest Mountain range is absolutely breathtaking. Everyone should get to see it at least once in his or her lifetime. I make a point to come this way every year. It's spiritual. Ouray itself has some fabulous restaurants; I highly recommend The Outlaw. Besides the name appealing to a woman who has always had a penchant for bad boys, The Outlaw offers an extensive menu and everything is delicious! Plus, there's a talented young piano player who adds to the festive fare. Ouray also has a hot springs to ease your aches and pains. It's a heavenly, laid-back place that does a body good!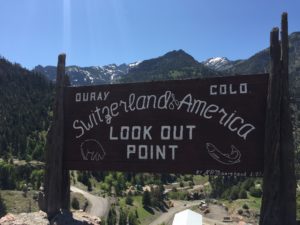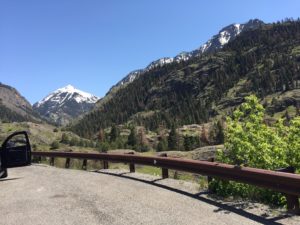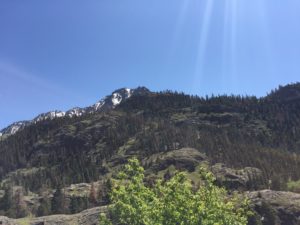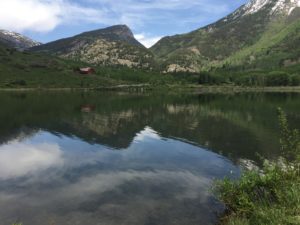 Tired yet? Not us gals. We're just cruising along. Cherry Season is a great time to visit Hotchkiss and Peonia. We continue through McClure Pass and drop into Marble.
I have a plan to pause briefly in Redstone to take care of some business. Life lesson number four…when you need to stop and take care of business, just do it. Waiting only causes worry, or incontinence, or both. After business is done, it is suggested that we take the drive up to the top of the mountain to eat some Slow Groovin' BBQ. What the hell…it's not like we have anything better to do. As we drive, we're thinking, "what kind of backwoods fiasco have we gotten ourselves into?" There is literally nothing but mountains and trees everywhere the eye can see (is that banjo music we hear?). However, beyond the splendid view, and much to our surprise, we discover the hidden eatery that looks like it was built by original cowboys who unsaddled their steeds and decided never to leave. Talk about finger-lickin' good! The menu boasts local beef, pork, elk, and more all smoked on site. We sit on the patio for the better part of three hours surrounded by 100 ft. trees, and enjoy nature at its finest. We devour a slice of homemade banana cream pie for good measure. Life lesson number five…when someone tells you there's something "slow groovin' and smokin' that ends with a little bit of sweetness,'" go ahead and drive in the middle of nowhere to find it. That night, as I tuck myself in bed, I realize that Redstone is as magical as a fairy tale. Sometimes business leads you to exactly the right spot at the right time.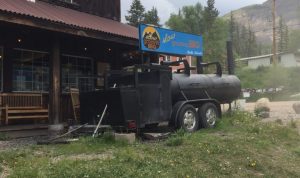 The next day our journey has almost come to an end as we move on to Carbondale and Glenwood where we yield to our most animalistic tendencies. I'm not sure whether this is in our DNA or based on carefully honed artistic development, but I did some mega shopping, and Mary, well she did some mega flirting with a guy she met online (oops, I said I wasn't going to mention names). Later, the car filled with shopping bags, and our hearts are filled with precious memories, we trek back home. I can't remember what I bought that day. And that guy Mary was flirting with? Well, he wasn't very memorable either. What we do remember is spending time with the good kind of crazy, laughing, relaxing, dancing, and leaving all the bad behind—if only for a moment. Which brings me to lesson number six…it's all about who you take with you and what you choose to leave behind that makes the biggest difference and the best memories.
If you want help making your own memories in a new home, need some Colorado travel tips, or are just looking for a friend to share some frivolous moments with, give me a shout!